Psychophysiological effects of Equine-assisted Therapy in Horses and in Veterans diagnosed with PTSD
On behalf of the research team (some of whom are shown here) we welcome you to this research study.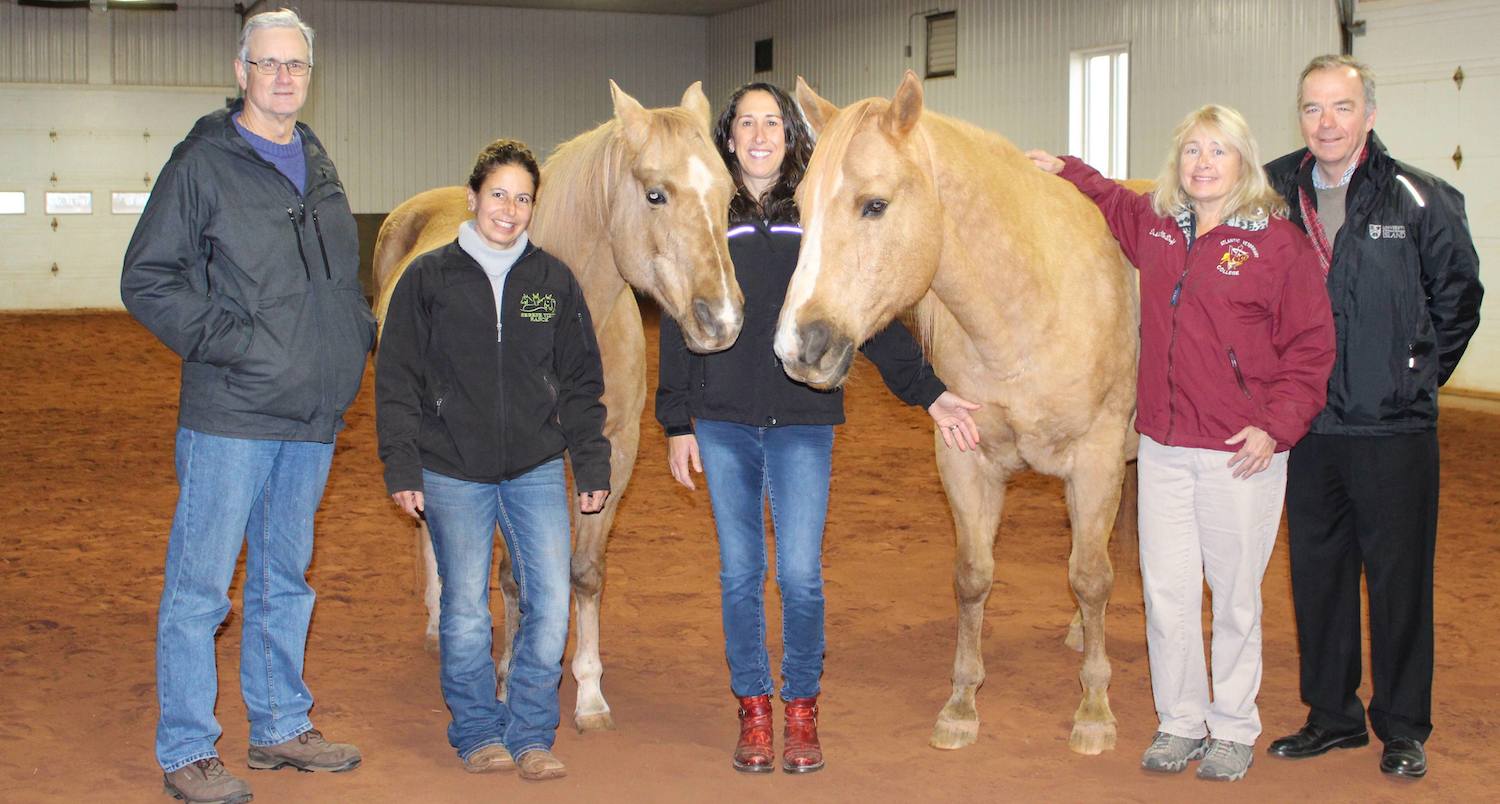 Please read this information sheet carefully and ask as many questions as you like before you decide whether you want to participate in this study. You are free to ask questions at any time before, during or after you agree to participate in this study.

At the University of Prince Edward Island we are conducting research that investigates the psychophysiological effects of Equine-Assisted Activities and Therapy (EAA/T) in Horses and in Military Veterans diagnosed with PTSD.
What is the purpose of the research study?
The proposed study aims to build on previous research examining the impact of EAA/T on PTSD symptoms in veterans and fill the observed gap on animal welfare. In order for equine assisted therapy to be a useful long-term treatment for veterans, science needs to provide evidence that the therapy is beneficial to humans and is not adverse to the horses. The current study aims to obtain objective physiological and psychological data from veterans and horses that engage in EAA/T. Effect of therapy on humans and horses will be determined through cortisol as an indicator of stress, oxytocin as an indicator of stress modulation, the balance between the sympathetic and parasympathetic branches of the autonomic nervous system (e.g. through HRV); and by standardized assessment (humans) and behavioral indicators (horses) of stress. The proposed analysis is novel in the representation of paired data from the human-horse dyad.
Why have I been asked to participate?
This study will be innovative in its approach to studying the potential effects of EAA/T through a unique approach to data collection and analysis. Specifically, similar mixed methods data will be obtained from both human participants (i.e. veterans) and horses simultaneously to gain insight into the psychophysiological aspect of the human-horse dyad during therapy. Few investigations have explored the process of entrainment between humans and their horses, which posits that the physiological processes (e.g. HRV, etc) of humans and horses become rhythmically "in sync" with one another. The current study will examine this theory further and assess whether it contributes to any observed changes as a result of EAA/T in both the human participants (i.e. veterans) and horses.

You have been asked to participate because you are among the specific target populations identified within the scope of this research program. You are over the age of 18 and are willing to participate in this study.
Do I have to take part in this study?
Your participation in any part of this research is voluntary. You may refuse to participate in this research without penalty. You may withdraw from this research at any time without penalty. If you choose to withdraw from this research, any data you have already provided may be retained and used for the purposes of this research.

This information sheet is yours to keep and is also available on the website. You can save or print a copy of the consent form from the website for your records.
We explicitly seek your consent for the use of direct quotations which will be anonymised. If you take part and change your mind, you have the option of withdrawing from the process at any point without giving any reasons.
Submitting responses is considered your virtual agreement to the terms of the research process which are specifically noted as:

all information collected throughout this research process will remain confidential and securely stored using a firewall-protected secure server accessible via password for security and safety at the University of Prince Edward Island for a period of five years.

You are NOT obligated to complete any forms, and you may withdraw from the research process at anytime without fear of reprisal.
What will I have to do if I agree to take part?
Potential research participants will be asked to take part in a 20- 30 minute information session during which the research objectives and protocol will be described prior to seeking consent.
Measurement of symptoms of PTSD in veterans will be collected at three predesignated time points using four standardized surveys: the Multidimensional Anxiety Questionnaire (MAQ), the Beck Depression Inventory (BDI-II), and the STAXI-2 State Anger scale which assesses the intensity of anger as an emotional state at a particular time, and the PTSD Checklist (PCL-5) which is a 20-item self-administered assessment designed to measure symptoms of PSTD . The schedule for data collection will be prior to the first EAA/T session on day 1, after four sessions of EAA/T, and at the end of 8 sessions of EAA/T.

In addition, veterans will complete a self-perceived well-being scale consisting of a 10 item scale ranging from unwell to well with verbal anchors at the start and end of each EAA/T session to evaluate state changes in mood.
Objective measurements of HRV, cortisol and oxytocin will be collected from human subjects using Polar Heart Rate Monitors and from passive drool samples, respectively. HRV data will be collected 30 minutes prior to each session during a resting period (baseline) and throughout each session.
Specifically, heart rate monitor recording will be started when the monitors are placed on each individual 30 minutes before the therapy sessions begin, continued during the entire 1 hour EAAT session, and for an additional 30 minutes after EAAT, for a total of 2 hours.
For each person, 10 minutes of HRV data before each session, 10 minutes during grooming of horses, 10 minutes at the midpoint of the time spent with the horses, 10 minutes during leading, and 10 minutes after the session will be collected for a total of five time periods of HRV for analysis.
Passive drool will be collected 30 minutes prior to each session during a resting period (baseline) and at the end of each session. Passive drool will be submitted to Salimetrics, LLC for cortisol and oxytocin analysis.
Are there any possible disadvantages from participating?
There are no reasonable foreseeable discomforts or risks involved in participating as you could respond to the web based surveys at any time and place. This study is designed to measure and assess acute physiological changes in markers of stress and well-being in horses and humans as a result of participation in 8 EAA/T sessions with a registered psychologist and certified equine specialist.

The study will be conducted by researchers from UPEI in partnership with Serene View Ranch. The EAA/T will take place at Serene View Ranch which is accredited as a premier facility by the EAGALA. Four humans and four horses will participate in the research project during each of 4 x eight-week sessions. Data will be collected before and after each session during the 8 week session.
A registered psychologist will oversee the EAA/T. Research personnel from the University of Prince Edward Island (Departments of Human Science and Atlantic Veterinary College) will collect data from humans and horses during the therapy sessions.

The website will be monitored and backed up by the technical support team at the University of Prince Edward Island. If there is any unexpected discomfort, disadvantage or risk to you during the course of this process, please, bring it to the attention of Dr. William Montelpare, to help you find support.
What if something goes wrong?
There are no known risks or harm with this research process. If you are harmed by taking part in this research process, there are no special compensation arrangements. If you have any problems with the ethical conduct of this study please send an e-mail to reb@upei.ca or call (902) 620-5104.
What are the possible benefits from taking part?
There are no immediate benefits for those participating in the research process, but the data will contribute to the knowledge base and inform the research process support team about events that occur during the process. You may gain some personal benefits or support from being a part of this research process and contributing specific feedback about the process and the outcomes. In addition, the data will be used as part of the academic studies experience for students that are part of the technical data collection team.
Will my participation be kept confidential?
Yes, all information collected will be kept strictly confidential. You will be assigned a personal identification number (ID) or pseudonyms to identify your responses. Personal identifiers will be removed from responses during the analysis of the data and replaced with pseudonyms. During the study Dr. William Montelpare and members of the research team will have access to data that you submit. Your ID and details that you submit will be stored in a password-protected computer. Your physiological data and any text responses will not be held together with your personal details. Data will be stored on the University of Prince Edward Island firewall protected secure server that is only accessible via password for security and safety.

After finishing this study the data will be stored in password protected computer controlled by Dr William Montelpare for 5 years and then destroyed according to the University policy on data protection.
What type of information will be sought and why the collection of this information?
The information we need will be detailed responses to the questions to assist us (the researchers) in establishing the statistical models using these measures. This information will enable the overall aim of the study to be achieved i.e. to evaluate psychophysiological effects of Equine-Assisted Activities and Therapy (EAA/T) in Horses and in Military Veterans diagnosed with PTSD. .
What will happen to the results of the research project?
Access to a summary of the findings will be available for all participants electronically, upon request. The findings will be submitted for publication in peer reviewed journals and presented at academic and professional conferences.
Who is organizing and funding the research?
The study is being led by Dr. Laurie McDuffee with collaboration of the team of Co-applicants. This research is supported by funding from The Horses and Humans Research Foundation, Grant (USA).
Who can I contact for further information?
We realize that some of the questions could possibly trigger an emotional reaction. As researchers, we do not provide mental health services and we will not be following up with you after the study. However, we want to provide every participant in this study with a comprehensive and accurate list of clinical resources that are available, should you decide you need assistance at any time. Please see information pertaining to local resources at the end of this form.

We ask that you do not disclose research procedures and/or hypotheses to anyone who might participate in this study in the future as this could affect the results of the study.


Final Report
If you would like to receive a copy of the final report of this study (or a summary of the findings) when it is completed, please feel free to contact us.
Useful Contact Information
If you have any questions or concerns regarding this study, its purpose or procedures, or if you have a research-related problem, please feel free to contact Dr. William Montelpare at 902-620-5186 or wmontelpare@upei.ca. If you want any information regarding your rights as a research participant, or have concerns about this research project, you may contact: the Researech Ethics Board at UPEI, UPEI Research Services at 902-620-5104 or by email at reb@upei.ca

---
***Please keep a copy of this form for your future reference. Once again, thank you for your participation in this study!***
For questions about this research please contact:

Professor William J. Montelpare, Ph.D.,
Margaret and Wallace McCain Chair in Human Development and Health,
Department of Applied Sciences, Faculty of Science,
Health Sciences Building, University of Prince Edward Island,
550 Charlottetown, PE, Canada, C1A 4P3
(o) (902) 620-5186
You may copy this information sheet for future reference.
---
Some basic guiding principles for the partnership between the researchers and the participants
I have read the information sheet for this study and have been given permission to print any information I wish. I have also been provided a contact number of the Principal Investigator and an invitation to ask questions about the study or my participation in the study.


I understand that my participation is voluntary and that I am free to withdraw at any time without giving any reason, without my legal rights being affected and I give consent for any data already given to be retained and used.


I understand that I will not benefit financially if this study leads to the development of education and training or future research/education/technological developmental outcomes.


I know how to contact the study team if necessary. I understand that I can contact the UPEI Research Ethics Board at (902) 620-5104, or by email at reb@upei.ca if I have any concerns about the ethical conduct of this study.


I understand that by submitting the letter of informed consent with this study I am agreeing to participate in this study.


I understand that a written summary of the findings will be available to participants through reports produced by the study team and disseminated via professional and academic journals and conferences.
---
AUTHORIZATION
Once you have read through the information sheet above and reviewed the statements, please sign and date this form below. This will constitute the start of your participation.

I have read the information provided for the research conducted at UPEI as described in this consent form. My questions have been answered to my satisfaction and I agree to participate in this study. I voluntarily choose to participate in this study, but understand that my consent does not take away my legal rights in the case of negligence or other legal fault of anyone who is involved in this study.

Your Signature:
---
Date:
---